Last Updated on January 7, 2021
Majority of people only focus upon upper body for exercise and ignore their lower body. In real, the lower body has same importance like upper body to live fit and strong.
Workout Description
For walking and running, legs need different workout to do jobs in daily life. Here are 7 exercises to work your legs to exhaustion:

Workout Routine
Here are The 7 Exercises To Work Your Legs To Exhaustion – SEE NEXT PAGES
Exercise 1: Lateral Squat Steps with resistance band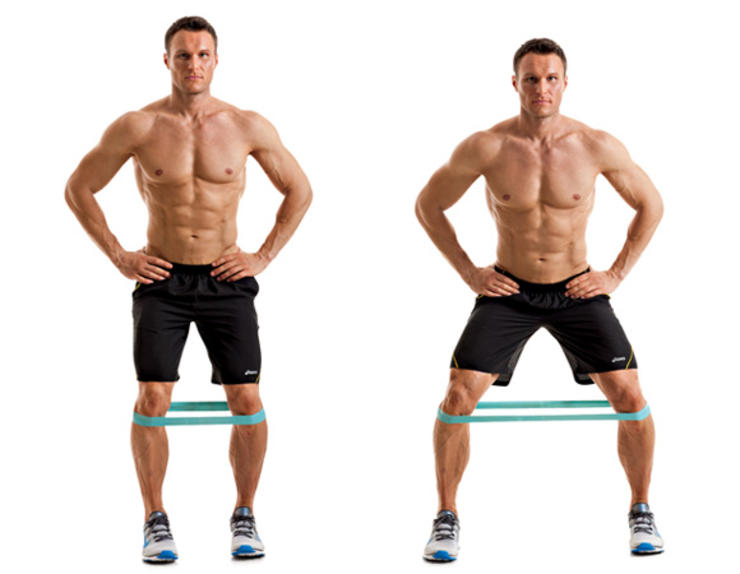 3 Sets | 10-12 Reps | 1min break
This is an easy exercise to understand. Pause, jump up, landing, and then repeat the sequence again and again for 10 – 12 reps up to 3 sets. This workout is very useful to target the different hip areas by focusing upon the gluts specially.
Exercise 2: Barbell Front Squat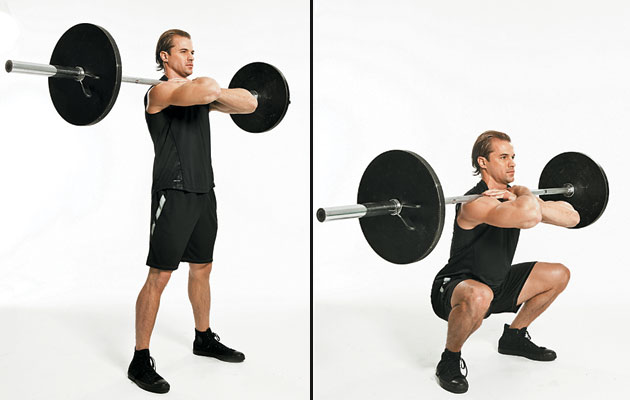 3 Sets | 10-12 Reps | 1min break
Squats are the most interesting workouts for the top area of lower body in the list of all lower body exercises. Hold the barbell at the top of your chest instead of shoulders for improving the posture. In this position, there is less stress on the lower back. Load a heavy barbell to get 12 reps daily. It is important to remember that the timing of squats should be for one minute and the rest for one minute for aiming to rest.
Exercise 3: Bosu Squats with Medicine Ball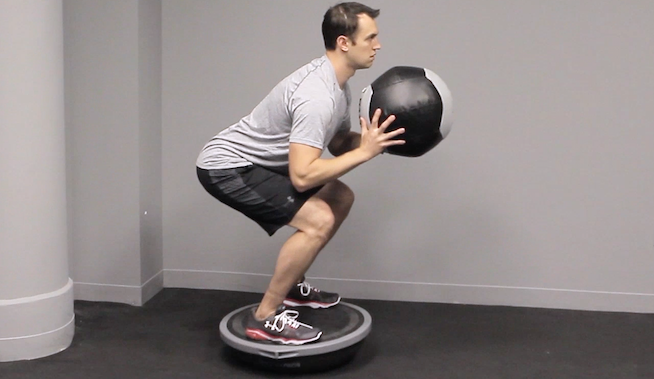 3 Sets | 20 Reps | 1min break
For squats, it is not compulsory to do exercise with a loaded barbell. You can add some instable underfoot in the form of Bosu. If heavy soft medicine balls are being loaded on one or both shoulders, you can bail out safely by dropping the balls. These moves provide different mixtures of quads, hamstrings. In the result, the glutes will create tones legs more quickly. If some weight is added, then you will be a sweating bullet and shake like a leaf.
Exercise 4: Wall sit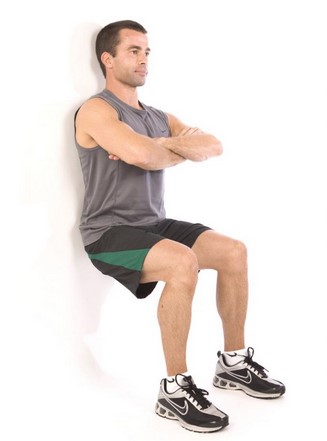 3 Sets | 10 Reps | 1min break
Many body building trainers introduce the "wall sit" work out for legs to exhaustion. It is known as an excellent exercise to get an ideal lower body. Stand up about a femur – length distance from the wall and sit down only with flat back. This position is just like a person who is sitting on a chair. Remain in this position for a minute, to aim for 10 – 12 reps with one minute for rest during the workout. This workout is known as the fastest way to burn fat from legs.
Exercise 5: Squat jacks with Resistance – Bands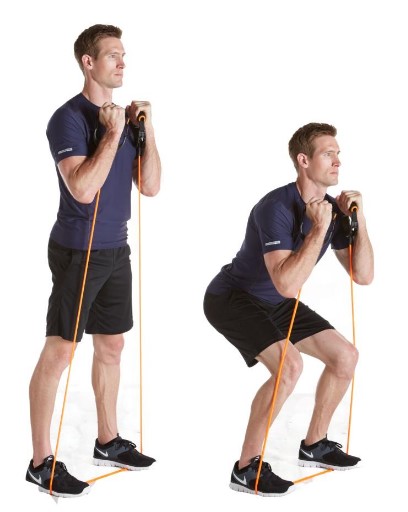 3 Sets | 10 Reps | 1min break
To do this exercise, wrap a small resistance – band loop on the lower legs. Stand up with your feet by keeping hip – width apart. Sit back and then do a deeply body – weight squat. Explode up into a jumping – jack then lend back in the squat. Do 3 sets of 10 – 20 reps and take rest for one minute in between area. This exercise displays an explosive power and co – ordination of timing. This workout is very tiring for you.
Exercise 6: Floating Lunges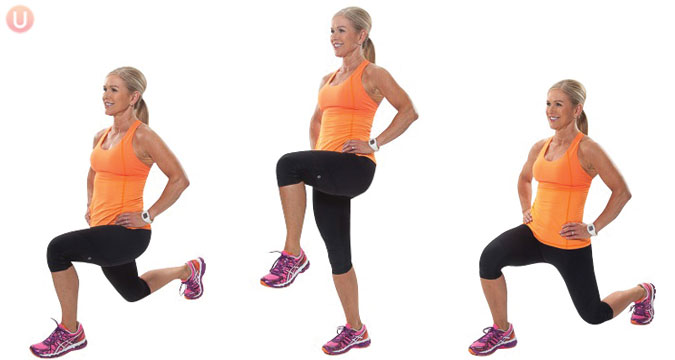 3 Sets | 10-15 Reps | 1min break
Controlling and balance are the most important factor for this type of workout, because "floating lunges" is known as challenging move. Start this exercise by facing ant bench in perpendicularly form. Bring your front shin close to the bench in a lunge, the position of hands should be resting atop. Then stand – up by having a balance on the front foot by lifting back leg behind you. Hinged the hips at the waist with the fingertips by remaining still on the bench. Take a move slowly by bending the front knee to the lower back side into the lunge form by allowing the back toes for touching down at the last seconds. Do 12 reps on one leg by switching aside. Take rest for one minute during every reps and do 10 sets respectively.
Exercise 7: In and out moves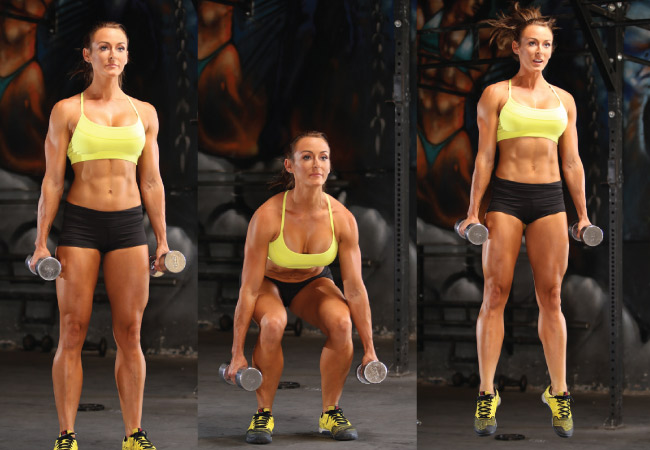 3 Sets | 10-15 Reps | 1min break
In and out workout seems simple for exercise. It is a part of a jumping squat with ins and outs moves for legs workout. Grab a 20 pounds' dumbbell to hold in both hands setting against the chest. Go for a deep squat by keeping the feet closely together. Jump upwards with widen legs and then land on earn in the same wide position, which is called deep squat. Jump again with narrow legs. Do this exercise 10 ins and outs without any stop and then rest for one minute for next rep. repeat it for more than 3 sets for efficient results.
6 Things You Should Know About Creatine
How to Make Your Boobs Firmer
Back to Top
Forgot password?
Enter your account data and we will send you a link to reset your password.
Your password reset link appears to be invalid or expired.
Log in
Privacy Policy
To use social login you have to agree with the storage and handling of your data by this website. %privacy_policy%
Accept
Add to Collection
No Collections
Here you'll find all collections you've created before.