FOOD FIGHT CHICKEN VS THE EGG
Are eggs contain more proteins or chicken?
[td_block_ad_box spot_id="custom_ad_1″]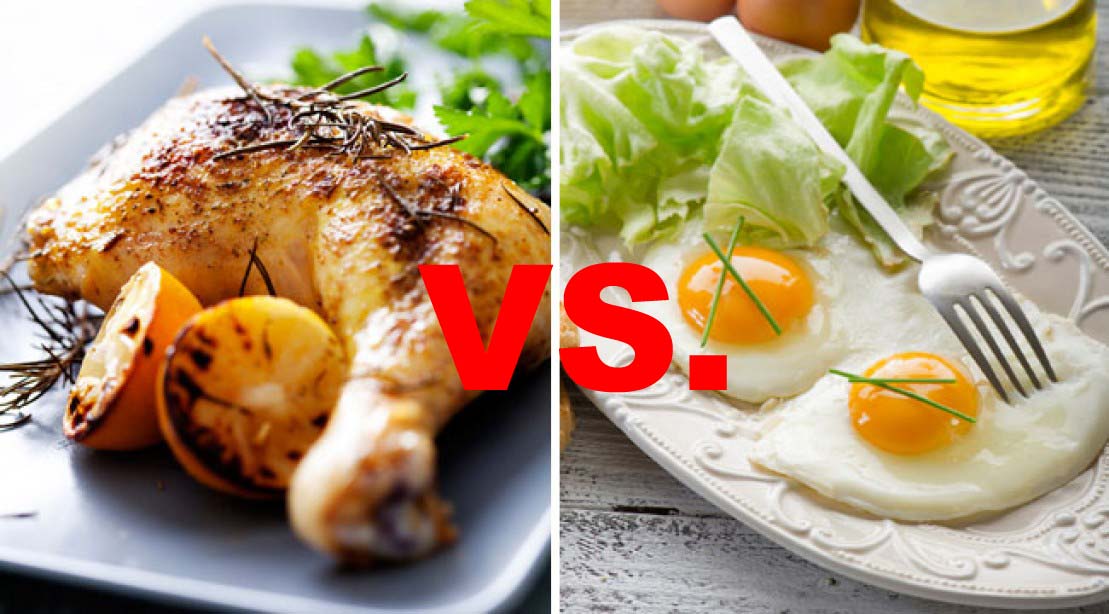 Proteins are known as the building blocks for the muscles, body cells, tissues etc. If you are taking low carb then the proteins also provides you energy. Proteins can be found in a wide range of foods but the instant that comes in mind are the meat and eggs. Though these both are known as a source of complete proteins but let see the actual protein amount in per serving.
Nutrients in 100 grams chicken
Proteins: 27 grams | Calories: 153 | Intangibles: None | Sodium: 51 mg | Fat: 4 g
Nutrients in 100 grams eggs
Protein: 13 g | Calories: 155 | Sodium: 124 mg | Fat: 11 g | Cholesterol: 373 mg
There is a quiet significant difference between the nutritional values of these two. You can see yourself which is healthier. But on the other hand you should not forget that it's not all about proteins. Eggs are the great source of glutamine and for body builder glutamine is a perfect choice. The more ideal way to benefit you is to take an egg with a piece of chicken for quick and better achievement.
[td_block_ad_box spot_id="custom_ad_1″]
[td_block_ad_box spot_id="custom_ad_2″]
15 Cheap Muscle Building Foods
10 Top Rated Muscle Building Foods For MASS & SIZE